All of our SLPs are licensed and certified in the state of Georgia to treat many types of communication diagnosis; following a physician's referral. We have sensory and music therapy rooms that allow children of all ages and stages to learn in an interactive, play-based therapy setting. We embody a play, learn, grow philosophy. While harboring a nurturing, family-based environment while focusing on each individual patient's goals.
---
Visit one of our offices today!
The Therapy Tree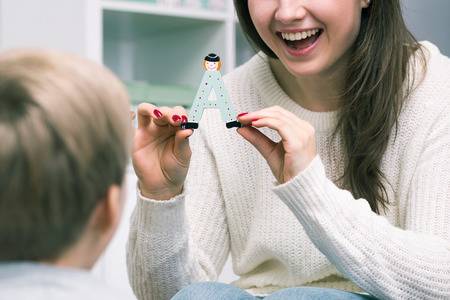 At The Therapy Tree we draw upon a number of therapeutic methods to develop a treatment program that is carefully tailored to each patients' current abilities and treatment goals. We embody a play to learn environment that allows our pediatric patients to engage with our therapists on a level that is most comfortable for them; all while increasing their individual speech, language, voice and swallowing goals. Founded in 2008 by Teresa McElroy, we now lead southeast Georgia in the field of speech pathology with five clinics.
Speech-language pathologists, also called SLPs, are experts in communication. Our SLPs provide the following therapies to children from birth to 21 years of age;
- Speech Therapy
- Language Therapy
- Voice Therapy
- Swallowing Therapy
WE EMBODY AND HARBOR
Our belief is that clients deserve individualized attention, therapy plans should be highly tailored to the person, and should be delivered in the environments which we communicate the most. Our SLPs understand the need for customized therapy that sets obtainable goals for your child. During our initial consultation, we will discuss your challenges, needs, goals, and learn a little bit about you and your life. We will craft your therapy plan based on this initial consultation. We will continue to incorporate and amend your plan as we work together to find what works best for you and your life.
INTEGRATE FAMILY & FRIENDS
We work to include your natural environment and the people in your life into your therapy plan – your family members, teachers, partners, and others. Therapy isn't just for the client, also the people in your life. By including your loved ones in your therapy plan, they gain an understanding of your disorder as well as the issues that you confront daily and they learn the skills needed to assess and assist you with situations that may arise. Understanding the challenges that affect your communication and the specific steps to assist you, will improve the success of your therapy and provide you with support in every facet of your life.
HOW THERAPY WORKS
Therapy is most successful when it is well-integrated with the people in your child's life, the situations they'll encounter everyday, and the environments in which they live, play, and socialize. We are your child's biggest advocate in the therapy world and will work closely with you through every step.


Let's Talk - It's Free!
Your initial consultation is free of charge. Just fill out the contact us form, and we will set a time for our initial phone call so that we can discuss your concerns, medical history, experiences, and expectations for speech and/or language therapy.
On this phone call, we'll cover topics such as areas that might be of concern, any recent screenings or referrals from doctors or teachers, specific goals, and more. We get to learn more about your child and together we'll discuss the next steps to find the right fit for you.

In-Person Evaluation
If we decide that speech and language therapy is the right strategy for your child's needs, we will discuss how to proceed with a physician's referral. Once the referral is received from your child's pediatrician, our closest location will contact you to discuss your insurance information and schedule your child's initial evaluation. The evaluation will be based on both a formal and an informal in-person assessment.
Our therapists will start our partnership therapy and ensure you feel as comfortable as possible -- through conversation (for adults) and play (with kids).

Your Customized
Therapy Plan
After the in-person evaluation is completed, we will work together to make a therapy plan targeted to addressing the weaknesses and strengths noted in your child's assessment and tailored towards your child's personal goals.
In your customized therapy plan we will focus how to reach your goals through creating partnerships with the people in your life. We will all work together for a common goal!